Our fully accredited team of fencing specialists specified the supply and install for 200m of 5mm thick wire V Mesh Security Perimeter Fencing to secure access to this new fit-out in York. The reinforcing "V" bars on this fencing product makes it versatile and robust for this particular commercial application.
For the neatest possible finish on fresh laid tarmac we decided (with Northern Structures) to coredrill the post holes across the boundary along the car parking bays.
It's this level of special attention that makes our fence installation services worth every penny.
To future proof things and offer access to utilities for grounds maintenance, we specified and installed a pedestrian gate to seal off the v mesh fencing towards the front of the building on Monks Drive.
We chose the Locinox system to secure this pedestrian gate. Locinox houses a robust flatkeep with polyamide box to ensure weatherproofing, durability and offer the level of protection required for Go Store Self Storage Ltd.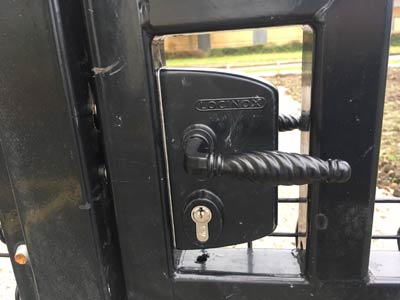 Electric Control Access Gates
The bespoke 6m wide, cantilever, sliding, vehicle access gate was fabricated to fit perfectly.
The gate was designed to be fully rigged, automated and hardwired to a CE compliant access control unit. A master fob can override the open and closing mechanism, whilst also allowing customers remote access to permitted areas (on request) via the GoStore Self Storage app.
(See the video below for a quick demo on how gates like these can be programmed to open and close using your own personal touch screen device)
.
Birds Mouth Boundary Knee Rail Fencing
Health and Safety is an obvious key factor to any new developments on busy business plots.
To mark boundary demarcations and keep members of the public safe on the footpath and detour them from the grounds, we installed some locally sourced birds mouth*timber knee rail fence to keep everyone on track just over 700mm from the footpath.
(*FSC timber ~ the quality assurance stamp identifying materials that are manufactured purely from sustainable sources)
Our team of specialists put a great deal of pride and workmanship into every job we get invited on.
It's customer feedback like the one below that make us what we are today.
Go Store, (Original Review):
"Brilliant lads. Brilliant fencers. Brilliant. @metcalfefencing I hope you're prepared to travel distances, we'd recommend you to anyone. Thank you for doing such a fantastic job."
For more information about Go Store Self Storage Ltd visit: https://www.gostore.co.uk/
Monks Cross Dr, Huntington, York YO32 9GZ
Telephone: 01904 215990
Security, Access & Automation
A quick tour around and it's plain to see how serious Go Store is about providing high security, and more importantly, peace of mind for its customer base.
Exactly why we at Metcalfe Fencing were keen to get involved and tackle the necessary additional security requirements surrounding the exterior of the premises.
Aerial of SIte
Go Store Self Storage Ltd are a new breed of specialists making waves in the self storage market.
A unique concept, boasting high-tech, indoor, time, remote and monitored storage facilities.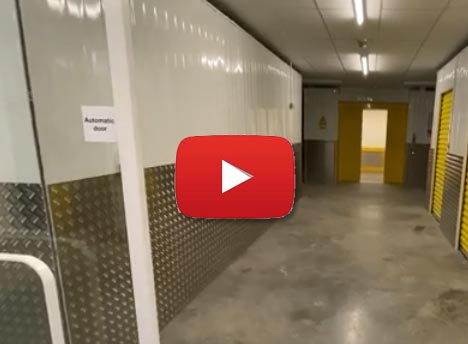 Inside GoStore
The warehousing is wrapped tight with multi layered security whilst providing ease of use.
Accessing your self storage lockups can be as simple as a click of a button.
A quick sweep through and you can easily see how this company is pulling ahead of the competition within the self storage field.