Acoustic Fencing
Noise pollution can be a problem for some schools, especially when people are living close to school grounds. Our acoustic fencing systems are the perfect solution to reduce noise pollution and prevent noise from playgrounds or sports fields from affecting the lives of those living nearby.
Sports Fencing
Several important factors need to be considered when installing a fencing system for sports fields, play areas or playground. These include participant and spectator safety, efficient protection of nearby buildings, the security of the area when nobody is around and the playability of the enclosure. All our sports fencing is ROSPA approved to minimise the risk of injury and accidental damage.
Perimeter Security Fencing
Here at Metcalfes, we use highly versatile perimeter fencing systems that can be designed, shaped and moulded to your exact specifications. Our highly experienced team will supply and install school security fencing that protects both sides of the school perimeter. With a range of fencing including mesh fencing and chain link fencing, contact us today for a free, bespoke perimeter fencing quote.
Timber Fences
Timber fencing for schools is a cost-effective, aesthetically pleasing solution to securing certain areas and managing the flow of people. This type of fencing is most popular in play areas, nurseries and primary schools as it provides both a high level of security whilst maintaining the friendly, natural appearance of the area.
Tubular Railings
Tubular railings are available in a wide range of colours and designs that can be matched to fit the overall aesthetics of a school. They are a school fencing system that provides a high level of security and are suitable for a wide range of applications. Requiring little to no maintenance, tubular railings not only look good but keep areas secure too.
Access Control
Using the latest Paxton Net2 system, our access control systems are designed to be simple, robust and cost-effective. We help schools overcome the challenges associated with managing the daily flow of people whilst maintaining a safe and secure environment for pupils and students to learn in.
Our Experience in School Fencing
We can supply and install a variety of school fencing products to meet your exact requirements. Contact us and discuss your fencing needs with one of our team of experts today!
School Gates
In addition to school fencing, we are also experienced in designing, manufacturing, supply and installation school gates.  From the initial design process to the installation itself, over the years we have learned how to put together teams that have the skills, the equipment, and the passion, to get the job done. Contact a member of our team and discuss your school gate requirements today.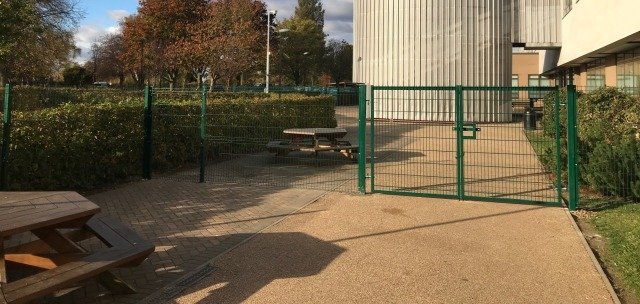 Swing Gates
Swings gates are most commonly used in schools to control the flow of traffic from one area to another. They can be used to control both pedestrian and vehicular traffic making them ideal for sports areas and car parks.
Sliding Gates
Sliding gates are most commonly used in school car parks to control vehicular traffic. They are the ideal solution for any school looking to introduce access control to their car park. Sliding gates can be designed and manufactured to fit into an existing aesthetic setting.
Telescopic Bollards
Telescopic Bollards are ideal for restricting vehicle access and are fully retractable. The great thing about this type of bollard, apart from providing a high level of security, is that they tend to take up less space.  For a school setting, Telescopic Bollards work best in car parks.