CONSTRUCTION SITE CLEARANCE
We have the men, the machines & the know how
We specialise in:
Pre-Construction Clearance
Boundary & Demarcation Clearance
Metal Palisade Take Down, Removal, Transportation & Recycling
Concrete & Hardcore Removal & Transportation Logistics Through Licensed Waste Carriers
Land Clearing, Earth Works Removal & Stripping of Top Soil
Surface Removal for Re-Construction
GFL Level Grade Line Surface Landscaping & Levelling Procedures
Scrub Clearance
Brushcutting, Strimming & Mulching
Vegetation & Green Waste Removal / Recycling
Tree, Hedge & Stump Removal & Disposal
Invasive Weed Control & Spraying
Perhaps your project has just had the go ahead from Planning and requires a plot of unwanted soil, debris, hardcore or invasive weeds / tree roots to be cleared before preparing the build? We have the skills, certificates of accreditation & heavy duty equipment to clear sites where trees, brushes & vegetation have become overgrown and utterly unmanageable. We have partnered with specialist waste carriers to remove concrete, hardcore, rubble & debris from your site swiftly, steering you on course to a smooth build that's still in line to meet scheduled targets.
Want to know more?
WOODLAND SITE CLEARANCE
Our NPTC qualified operatives are available for on-going contracts of works to provide the following  services:
– Dismantle & Removal of Dangerous Trees
– Stump Grinding & Removal
– Chip Unwanted Waste
– Log Up, Stack & Transport Timber in Lengths
– Hedge Flailing, Siding Up & Thorn Removal
– Diagnose Trees & Assess Woodland Health.
– Thin Out or Fell Unwanted Self-Seeds
(ie. Tree species that are beginning to dominate precious crops.)
Our strimming, brushcutting & vegetation control services cover:
– Footpaths & Bridal Ways
– Access Routes / Rights of Way Clearance
– Roadway Verge Strimming
– Embankment Strimming
– Railroads: Mechanical brushcutting / Herbicide spraying
– Tree Plantations – Strim / mulch competing vegetation away from favoured tree crops
All operatives are LANTRA accredited Brushcutters with PTS training.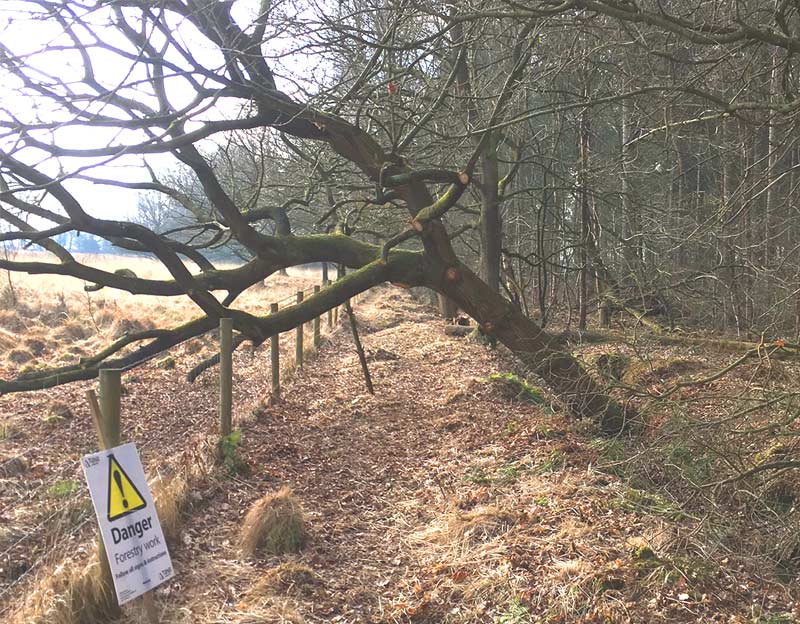 Before
Hazardous tree leaning over public bridal way supported by 2 ply barb wire under tension. The key concern is for public safety.
After
Tree dismantled safely & carefully in sections without damaging stock net fencing or risking anyone's health.
Bridalway Clearance
On behalf of Tilhill, Allerthorpe Woods, nr York
FARMLAND SITE CLEARANCE
– Brushcutting Services Along Dry Stone Walls, Fence Lines & Other Hard To Reach Areas
– Field Mowing, Ploughing & Rotovation
– Hedge Flailing / Hedge Removal
– Tree Felling & Removal (Being especially careful of Yew on Cattle Farms)
– Essential Ground Works for Laying Waterpipes, Drainage & Other Utilities
– Post Knocking & Field Gate Installation
– Stock Net & Equestrian Post & Rail Fencing Replacements
DOMESTIC & NEWBUILD SITE CLEARANCE
– Hedge Removal
– Tree Pruning / Removal
– Tree Stump Removal
– Concrete Removal
– Soil & Debris Clearance