Summer Houses
A summer house offers up a unique place to enjoy the summer sun with friends and family. They are a great place to relax with either a nice cup of tea or a tall glass of something bubbly! Here at Metcalfe Spaces, we have manufactured, supplied and installed a wide range of bespoke summer houses up and down the country. We offer a completely custom service so you can design your very own summer house to fit your garden specifications and of course, suit your tastes.
Man Caves
Create the ultimate space for watching sports, playing games or just generally escaping the pressures of everyday life with a garden man cave. All of our bespoke garden man caves are customisable to fit your exact needs and will truly give you a space to call your own. Our man caves are made using the highest quality materials and there is a huge selection of options to choose from including electrical packages and partition walls.
Tool Sheds
Timber garden buildings are ideal for protecting and securing your valuable garden tools from theft and the weather. We design, manufacture and install tool sheds to fit the exact dimensions of your garden whilst ensuring that you have more than enough space to fit your collection of tools. With a selection of high-quality materials on offer, our garden buildings are built to last and will not only keep your valuable gardening equipment safe but will look great in your garden too.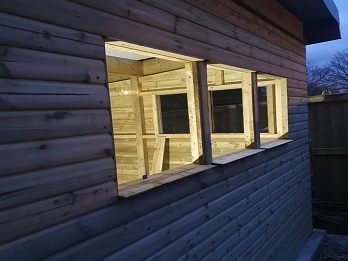 Garden Offices
With more and more people working from home, having your very own office space is becoming a popular investment. Garden offices offer a great way of maintaining a healthy work-life balance whilst providing you with more than enough room to get your work done. All of our garden offices are made using the highest quality materials and can be customised to fit your exact specifications. So whether you are looking for an office space for just yourself or are looking for a multi-room space perfect for the whole family, we can help.
Pergola
A garden Pergola is a fantastic way to install decorative features in your outdoor space. Fulfilling both style and function, our pergolas not only look great, but they provide shelter from the sun, rain and wind.
Workshops
A garden workshop is a perfect place for work, hobbies and craft. It provides you with more than enough space to create and tinker to your heart's content. Available in a wide range of shapes, sizes and designs, we will design and install a bespoke garden workshop to fit your unique garden. Contact us today and start designing your ideal garden workshop.
Quality Installation Service
Our installation team are fully trained and will work professionally to ensure your garden building is constructed safely and to the highest standard. We will make sure to take care when carrying out the professional installation and will work a quickly as possible to get the job done for you.
Bespoke Garden Buildings
If you are looking for a bespoke garden building that we have not featured above, then please do not hesitate to get in contact with us. Our expert team will work closely with you to design your building from the ground up and see it through until it's delivery and installation.